Deadline looms as Trump & congressional leaders hold spending summit
US President Donald Trump, and House and Senate leaders, have scheduled a meeting to begin talks on sorting out differences on a temporary national spending bill, in order to ward off a government shutdown as funds run dry, and tax reform inches closer.
The budget meeting, scheduled for Thursday, comes just one day before federal spending expires on Friday. It will focus on disputed issues in the proposed spending bill, particularly related to immigration and health care, according to the Associated Press.
Republican leaders expressed interest this week in pushing a temporary bill through Congress to keep the government afloat until December 22, as federal spending is set to expire on December 8. Discussions and agreements on a longer term spending bill would have to be hashed out before the temporary extension extension expires.
However, during Monday evening's vote to move the separate House tax reform bill to a conference committee, the right-leaning House Freedom Caucus briefly withheld voting for the that motion until their demands were met to draft a spending bill to that would keep the government running until December 30, as opposed to December 22.
Read more
The caucus said they were worried that if a vote occurred on a potential long-term spending bill before Christmas, which top Republicans have proposed with their bill expiring on December 22, it would give Democrats more leverage to inflate the package's price tag.
However, the members of the Freedom Caucus ultimately voted in favor of moving the separate tax reform bill to conference on Monday after Speaker of the House Paul Ryan (R-Wisconsin) agreed to hear them out in regards to a possible extension, Freedom Caucus chairman Mark Meadows (R-North Carolina) said, AP reported.
As the GOP attempts to come to terms on the temporary spending bill, they will also need votes from Democrats to push through both the temporary and long-term bill.
Senate Majority Leader Mitch McConnell (R-Kentucky) was confident that Republicans will wrangle enough votes for the temporary bill, and said: "We will pass it before the end of the week," AP reported.
However, some problems have been stifling the debate. Last Tuesday, House Minority Leader Nancy Pelosi (D-California) and Senate Minority Leader Chuck Schumer (D-New York) called off a scheduled budget meeting that included Trump, after the president took to Twitter to criticize the two Democrats' stances on immigration, taxes and crime. Trump also stated that he saw no prospects for an joint agreement on the bill between the two parties.
Read more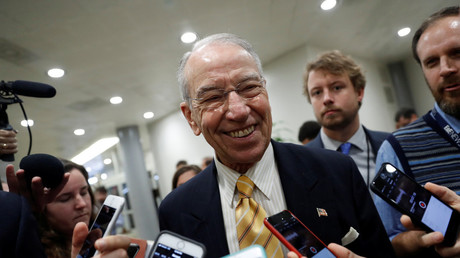 Democrats pushed back against the president in a written statement they released on Monday.
"We hope the president will go into this meeting with an open mind, rather than deciding that an agreement can't be reached beforehand," the party said, AP reported.
The Democrats added that they hoped Trump would be open to suggestions "as negotiations with our Republican counterparts continue."
Late on Monday, the House voted 222-192 in favor of going to conference with the Senate, in order to reconcile differences in both congressional bodies' versions of the separate tax reform bill.
The tax overhaul bills, which have now passed both the House and the Senate, would be the biggest rewrite of the US tax system in more than 30 years. Further, both bills would cut taxes by $1.5 trillion over the next decade, while also adding billions of dollars to the national deficit. However, the proposals take different routes to get there, according to AP.
The Senate will vote later this week, as they decide whether or not they will join the House in a conference committee at a later date, to hammer out the final details of a joint tax bill to send to the president to sign.
[contf] [contfnew]
[contfnewc] [contfnewc]