Srebrenica Anniversary Prompts Reflection by Bosnian-Americans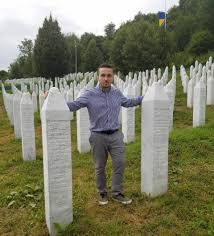 CHICAGO – Behidin Piric never had the chance to know his maternal grandfather.
In 2009, the St. Louis, Missouri, resident received a phone call from his native Bosnia informing him that his grandfathers body had been found in a mass grave with his hands tied behind the back with barbed wire. He had two bullet wounds in the back of his head.
"I had the task of telling my mother who came home from work that they found her father, so that was a pretty tough thing to do," said the 27-year-old American student.
Pirics grandfather was one of more than 8,000 Bosnian Muslim civilians, mostly men, who were killed in the town of Srebrenica during the Bosnian war.
"The genocide began in Srebrenica in July of 1995 and was a catastrophic uprooting of multiple generations of Bosnian Muslim families," said Ida Sefer, president of the Chicago-based Bosnian-American Genocide and Education center, in an e-mail interview with VOA.