'Slipper Revolution' Shakes Belarus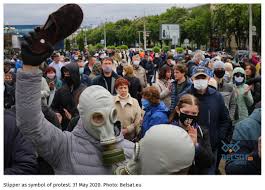 Half-a-year ago Alexander Lukashenko, who has ruled Belarus with an iron Soviet-style fist for a quarter of century, looked to be unassailable. But the former collective farm manager, whose aides and supporters like to dub him "father," is now being widely labeled a "cockroach" — and his opponents are vowing to "squash the pest" come August when he faces a presidential election.
In the past, Lukashenko has managed elections in much the same way as Russian leader Vladimir Putin – disqualify serious opponents from running, fiddle the tallies and silence independent media, according to international election monitors. During the last poll in 2015, many Belarusians observed the upheaval in neighboring Ukraine and took fright, deciding they preferred the leaden, if impoverishing, stability of Lukashenko over unpredictable and possibly ruinous change, say analysts.
But this time, Lukashenko is threatened not by a so-called "color revolution" but with a "slipper uprising," thanks to popular blogger Sergei Tikhanovsky, who was arrested at a rally last month after an alleged assault on a police officer.
Tikhanovsky was behind the labeling of Lukashenko as a "cockroach," saying he resembled the insect in a popular childrens poem called "The Mighty Cockroach." He had taken to driving around Belarus campaigning with a giant slipper tied to the roof of his car — a signal of his intention to flatten Lukashenko.