Belarusian Opposition Leader Flees to Lithuania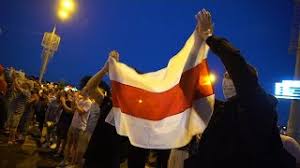 Protests erupted Tuesday for a third straight night in Belarus after the top opposition candidate in Sundays presidential election fled the country for her childrens safety.
Sviatlana Tsikhanouskaya sent a video message to her supporters asking them to forgive her going to Lithuania at this time.
"It was a very hard decision to make. I know that many of you will understand me, many others will condemn me, and some will even hate me. But God forbid you ever face the choice that I faced. Children are the main thing in life," she said.
Her supporters say they believe she was forced to read from a prepared text when she told protesters not to confront police and show "respect for the law."