Belarus Lukashenko orders police to quell protests as EU leaders hold emergency summit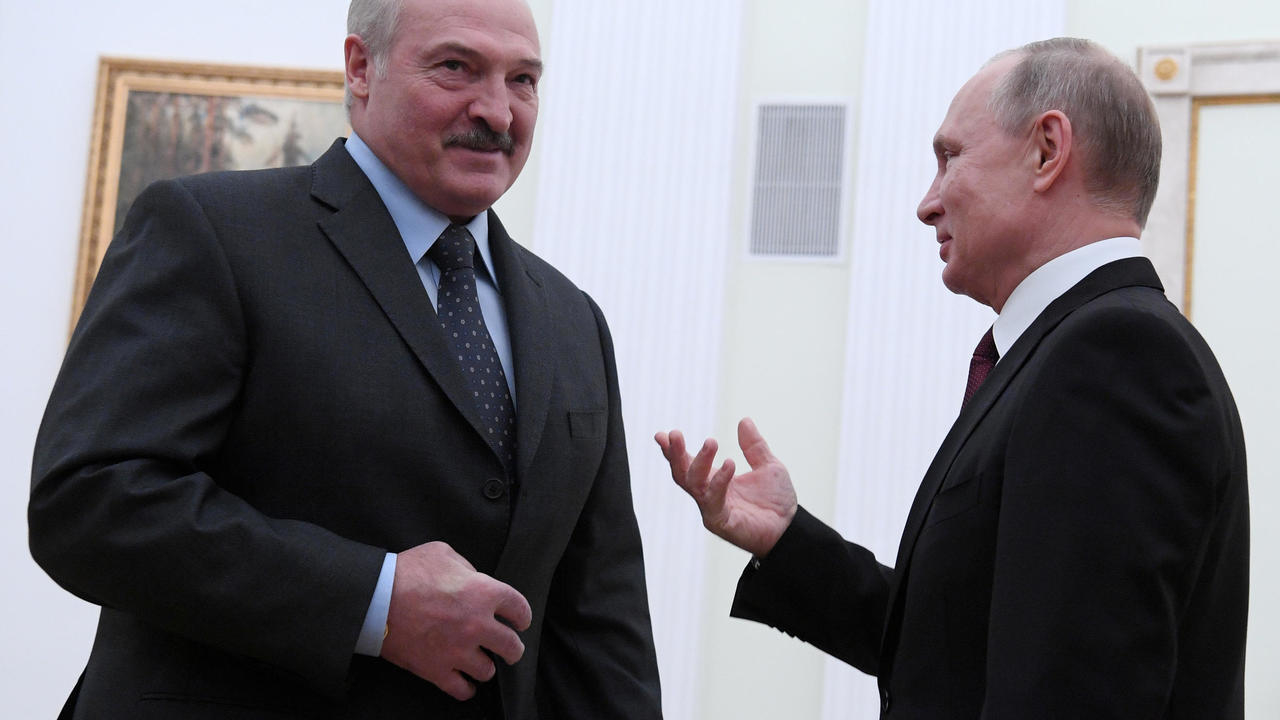 Belarusian President Alexander Lukashenko ordered police on Wednesday to put down protests in the capital Minsk, while European Union leaders held an emergency summit expected to endorse sanctions on Belarusian officials.
Advertising Read more
Lukashenko's order came even as EU leaders were holding an emergency summit over the political crisis in Belarus, long Russia's most loyal neighbour, which has heavily militarised borders with the bloc.
EU leaders were expected to endorse sanctions on Belarusian officials they blame for election fraud following a disputed August 9 election that the opposition said it won.
However, they were also expected to steer clear of more dramatic steps that might provoke intervention from Moscow.
"There should no longer be any disorder in Minsk of any kind," Lukashenko said in remarks reported by Belarus official Belta news agency. "People are tired. People demand peace and quiet."
Violence has to stop
He ordered the border to be tightened to prevent an influx of "fighters and arms". Workers at state media who have quit in protest against the government's policies would not be rehired, he said.
Western officials are trying to head off an escalation along the lines of the crisis in Ukraine six years ago, when a violent crackdown by a pro-Russian leader led to his downfall in a popular uprising, followed by a Russian military intervention and Europe's deadliest ongoing conflict.
"Violence has to stop and a peaceful and inclusive dialogue has to be launched. The leadership of #Belarus must reflect the will of the people," Charles Michel, the EU summit chairman, wrote in a tweet announcing the start of a video meeting, adding that he had spoken to Russian President Vladimir Putin.
German Chancellor Angela Merkel and French President Emmanuel Macron also spoke with the Russian leader, whose country has close economic and military ties with its neighbour.
Merkel told Putin that authorities in Minsk must "enter into a national dialogue with the opposition and society to overcome the crisis", while Macron urged the Russian leader to foster "calm and dialogue".
In Kremlin readouts of the two calls, Putin emphasised that interfering in Belarus and putting pressure on its authorities would be "unacceptable", as the European Union moves to impose sanctions over the vote and the brutal police crackdown on protesters that followed.
The flurry of calls came ahead of an emergency video summit of European Union leaders to discuss Belarus on Wednesday.
Speaking ahead of the summit, the EU's commissioner for the internal market, Thierry Breton, said sanctions against Belarusian authorities would be reinforced.
"It is clear that (the outcome of the Belarus presidential election) is not in line with the wish of the people, there has been unacceptable violence, and the rule of law is not respected. Sanctions have already been taken and will no doubt be reinforced this afternoon," Breton told Europe 1 radio.
'Rotting system'
Belarusian state news agency Belta said Putin and Lukashenko had also spoken by phone to discuss the Russian president's calls with European leaders.
Moscow has said it is ready to step in if necessary in Belarus through the CSTO military alliance between six ex-Soviet states.
But it is unclear how much support Putin is willing to give to Lukashenko, who in recent years has often played off Moscow against the West.
Lithuanian lawmakers on Tuesday urged Western governments not to recognise Lukashenko as president and both the United States and Britain this week voiced concerns over the elections and the crackdown.
Lukashenko has defied calls to hold a new election and on Tuesday handed out awards to 300 members of the security services, who have been accused of abusing arrested protesters.
During a meeting of his security council, Lukashenko accused the oppostion of attempting to "seize power" and sever Minsk's economic and military ties with Russia.
Earlier on Tuesday, several hundred people gathered outside the walls of a detention centre to mark the 42nd birthday of Sergei Tikhanovsky, a popular blogger who was imprisoned alongside other Lukashenko rivals ahead of the election.
Tikhanovsky's wife, Svetlana Tikhanovskaya, was allowed to run in his place but fled to neighbouring Lithuania after claiming that Lukashenko rigged the election to secure his official 80 percent of the vote.
In a video message, TikhanovskaRead More – Source
[contf]
[contfnew]

[contfnewc]
[contfnewc]