Britain Contemplates Second National Lockdown as COVID-19 Surges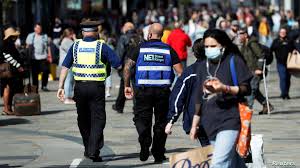 British Health Minister Matt Hancock said Friday the government is contemplating a second nationwide lockdown as new COVID-19 cases continue to surge in Britain.
Hancock commented in two interviews as a new lockdown went into effect in northeastern Britain.
Hancock said there has been an acceleration in the number of cases over the last couple of weeks, and the number of people hospitalized with the disease caused by the coronavirus has been doubling about every eight days.