European Countries Announce New Coronavirus Restrictions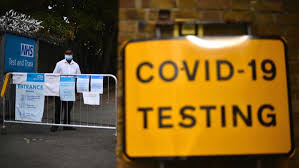 European countries announced new coronavirus restrictions Friday, one day after the World Health Organization warned infections have started to spread again across the continent at "alarming rates."
In Spain, which has more cases than any other European country with more than 620,000, the regional government of Madrid ordered a lockdown effective Monday in some of the more impoverished areas after a spike in infections there. While movement in the area will be restricted, people will still be allowed to go to work.
Authorities in Nice, France, have banned gatherings of more than 10 people in public spaces and cut bar operating hours, after new restrictions were imposed earlier this week in Bordeaux and Marseilles.
Britain said it is considering a new national lockdown after cases nearly doubled to 6,000 a day in the latest reporting week. British Health Minister Matt Hancock said another lockdown should be a last resort but that the government would do whatever is necessary to contain the virus.
New lockdown in Israel
Israel begins a second lockdown Friday because of a sharp jump in the number of coronavirus cases.
The three-week-long restrictions come just as the country is set to begin the Jewish holidays.
Israelis are allowed to travel no more than 500 meters from their houses. Exceptions include those purchasing medicine, seeking medical services, "helping someone in distress," transferring a minor between parents, and obtaining "essential treatment for animals."