How to care for your feet in monsoon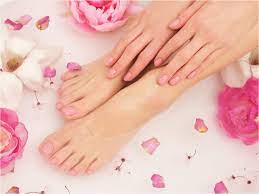 Our feet are the most exposed to the humid and wet climate. Fungal infections, wet shoes, to name a few, are some battles that they fight. With monsoon season ringing the bells, let's make at-home pamper sessions one notch higher. Go beyond your daily skincare routine, and let your feet indulge in some goodness. Here are a few monsoon footcare tips.
1. Keep them dry – The secret mantra to soft feet is letting them play as defenders while you play forward and cherish the rains. Wet feet are prone to swelling, stinking, and fungal infections. Therefore, it's inevitable that you remove the wet shoes. Dry them at lightspeed and say cracks no more.
2. Barefoot is not an option – As much as you love the feeling of wet grass, it's a sin for your feet. The proximity to moisture multiplies the probability of developing infections and warts. Apply antifungal powder on dry feet and let them soak in the air before wearing shoes to step out.
3. A good soak is the best foot spa – Developing a habit to wash feet right after an outdoor visit does wonders. With some antiseptic (home alternatives: mild shampoo/hot water and salt) in warm water, let your feet deep dive in comfort. It's recommended to follow this once a week for 10-15 minutes. Don't forget to pat them dry.
4. Moisturise with foot cream – Moisturising is the golden rule for the entire body for that healthy glow. A well hydrated heel feels soft and nourished. Moisturise two times a day, in the morning and before bed, and keep the cracks away (and allergies). Always moisturise on a clean and dry feet, it helps them to heal.
5. Monsoon footwear – Let's end the monsoon footcare guide in style! Do not step out in your daily footwear preferences – heels, sneakers etc. But that doesn't mean you have to ditch your style quotient; replace usual heels with transparent block heels or wedges, ballerinas, some flip flops or sandals.
It's important that the material doesn't wear out with mud and water exposure. A basic rule is to assess your footwear requirement in terms of how your day looks like; squeaky wet sandals for a meeting are a big no. The right material also prevents any slips or falls, cuts or bites.
With inputs from Matteo Lambert, Chief Collection Officer, Bata India Limited.
Read from source:
https://timesofindia.indiatimes.com/life-style/beauty/how-to-care-for-your-foot-in-monsoon/articleshow/84199131.cms