Smoking surge in young during Covid lockdown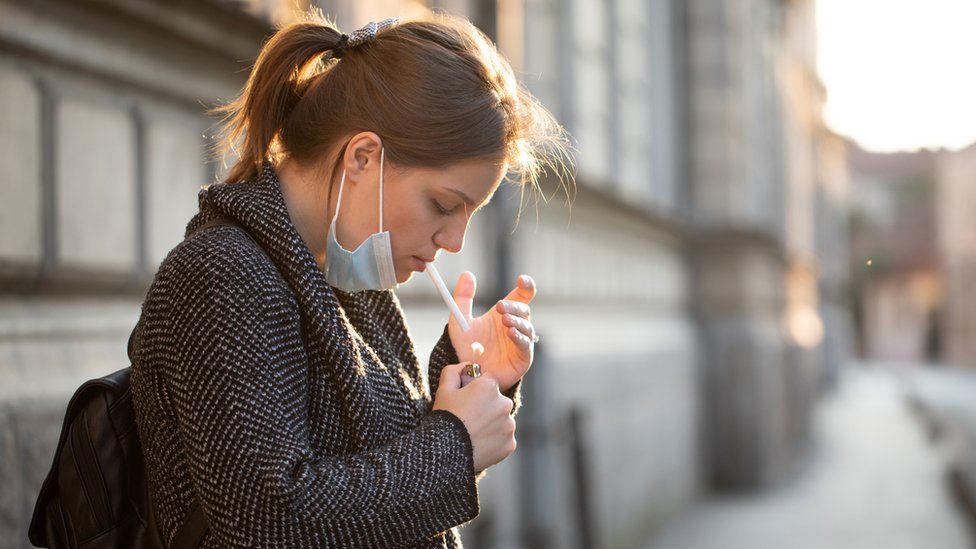 England saw a rise in young adults taking up smoking during the first lockdown, according to a study.
The number of 18 to 34-year-olds who classed themselves as smokers increased by a quarter, from 21.5% to 26.8%, says Cancer Research UK.
The data does not explain why the changes occurred but experts believe many turned to cigarettes in response to stress.
At the same time, heavy drinking increased across adults of all ages.
The findings, published in the journal Addiction, come from monthly surveys, each involving hundreds of people, about tobacco and alcohol use.
Researchers compared the responses given in the seven months prior to the first lockdown in spring 2020 with those given during it.
Based on population estimates for England, the findings suggest an extra 652,000 young adults were smoking, compared with before the pandemic, say researchers.
The data also suggests the pandemic may have been a trigger for many smokers, including young adults, to think about attempting to quit tobacco.
There were increases in the number of existing smokers quitting successfully, and overall levels of smoking in adults remain stable, according to the figures.
Given that older people report being more worried about becoming seriously ill from Covid, health concerns may have served as a greater deterrent to them than to younger people, say investigators.
Lead researcher Dr Sarah Jackson, from University College London, said: "The first lockdown was unprecedented in the way it changed people's day-to-day lives.
"We found that many smokers took this opportunity to stop smoking, which is fantastic. However, the first lockdown was also a period of great stress for many people, and we saw rates of smoking and risky drinking increase among groups hardest hit by the pandemic.
"It will be important to keep a close eye on how these increases in smoking and drinking develop over time to ensure appropriate support is made accessible for anyone who needs it."
Cancer Research UK warns there is no safe level of smoking and that it is not a healthy way to relax or relieve anxiety.
Deborah Arnott, chief executive of health charity ASH, said swift action was needed to reverse this worrying trend.
"The growing number of young adult smokers is a ticking time bomb, as smoking is an addiction which puts people on a path to premature death and disability which is hard to escape. The government has committed to publish a new Tobacco Control Plan this year, which is welcome.
"The new figures provide proof, if it were needed, that unless the plan is sufficiently ambitious and well-funded it will not deliver the government's ambition for England to be smoke-free by 2030."
Read from source:
https://www.bbc.com/news/health-58317263