"Can I try it on?" I asked in excited anticipation. I was around eight years old. It was my first trip to Wilsons Leather in the mall. Moments before, the clerk had disappeared into the back before reemerging with a black Victorian-style leather jacket wrapped in a clear plastic bag with a long layaway ticket dangling from it. It was collarless, with puffed sleeves, Victorian seaming, and a single hidden snap that hugged tight right above a flare of leather, giving the jacket a dainty peplum waist. He carefully slipped the jacket off the hanger and slid it over my mothers athletic shoulders. She looked Grace Jones–chic her hair shaved all over with a shock of long, layered curls on top. She slipped the jacket off and gave it back to the clerk, who held it open for me.
Going into Wilsons was a black girl rite of passage. The popular chain retailer had democratized the leather game; its layaway plan was perfect for people who had some disposable income but not enough to drop $200 to $300 up front. Of course, Wilsons quality wasnt as good as some of the more exclusive boutiques Mom preferred, but the price points were attractive, and she was less likely to be racially profiled there than in some high-end shop.
On the day of my first Wilsons excursion, wed gone to our tambourine-shaking church and then driven to the mall. I was excited, but I strolled casually to match Moms demeanor. The smell of raw animal hide laced with chemicals smacked me as soon as I stepped inside. It was like a herd of cattle had exhaled at the same time. At home, my mothers leather didnt smell like this, it smelled like her: hints of cocoa butter, Chanel No. 5, and flesh, the pores soaking up her essence and energy. This new leather smell made me light-headed and a bit disoriented. But then my eyes focused on the wall-to-wall jackets and handbags and wallets and it was like being in the middle of a geodesic dome of possibilities, dreams in all directions.
I walked through the store with my hand extended, like I did at home in Moms closet, running it across buttery-soft caramel-colored jackets. An ache of desire formed in my stomach. Leather is a curious thing to a young child. Mystical even. At home, Id run my Dorito-stained little hands across all of Moms different colored skirts and pants and outerwear. Leather had a texture that I couldnt quite name. In the winter, when the heat was on blast, Moms jackets felt warm and almost clammy to the touch. In the summer, the air conditioner chilled their stiff skins. It was the only material in her closet that felt differently depending on the temperature.
That day was a revelation. I was ready to gather the coins in my piggy bank to help Mom buy the lotions and sprays the clerk was hawking so she could protect her expensive investment. But she declined—she was a veteran and already knew the drill. Instead, she unfolded her neatly creased layaway receipt and handed it to the store clerk. She had "put some money on it" the last time she was in the store, and now we were here to pick up her latest statement piece.
Fords mother
Courtesy of the author.
Moms leather collection started during her raucous college days. Back then, it was all "Black Is Beautiful" and "Women Unite!," and leather was a major part of that revolutionary style zeitgeist. For my mom, the seed of the collection was a black leather vest and matching pants that shed purchased impulsively with her university work-study stipend.
She didnt start with a jacket, because she knew that symbolism was nothing to play with. Black leather, especially in the form of a jacket, was the symbol of radical protest at that point. To put on the specific black leather jacket of the Black Panther Party for Self-Defense meant that you were willing to lay down your life for the movement. The FBI and local police were gunning down Panther members or imprisoning them for life. Young militants like Mom respected their sacrifice too much to wear their jacket— which looked similar to a German M15 military coat, with its single row of large buttons and two big pockets near the bottom—just as a look. It was more than that.
"To put on the specific black leather jacket of the Black Panther Party for Self-Defense meant that you were willing to lay down your life for the movement."
David Fenton
Leather jackets were new as a status symbol for my moms generation, the new power suit. The Black Panthers had set the association between leather jackets and rebellious black cool, and that became part of the popular imagination, with jackets showing up on fictional crime fighters like John Shaft and Foxy Brown. Even Essence magazine was instructing black college women in its annual August "Campus Issue" to buy secondhand leather and fur at thrift stores in order to be on trend on a budget.
A few years before my rite of passage at Wilsons, I began adventuring into my mothers closet. She had high-waisted, pleated, and skintight leather pants, leather mini- and pencil skirts in every color of the rainbow: black, purple, teal, white, red. And leather jackets in every cut and silhouette: peplum, trench, and the full-length black leather coat she bought after seeing rapper Kool Moe Dee wear one in his "Wild, Wild West" video.
Actress Pam Grier as Foxy Brown.
Aip/Kobal/Shutterstock
For black folks, luxury textiles like leather and fur were immediate status symbols. The folks making and selling luxury goods were not looking for customers among poor and working-class black folks. So we didnt have automatic access to that kind of shopping, and thats why access mattered so much. Leather was a bit easier to come by than fur, but the right piece still gave you that exclusive feel.
All of my favorite celebrities looked fascinating in their unique leather styles too. Salt-N-Pepa had colorful leather S-N-P baseball jackets designed by Harlem legend Dapper Dan. Vanessa Williams, the epitome of black feminine glamour, sported a sexy black leather shrug in her "The Right Stuff" video. Mom was super good at the Victorian-inspired extravaganza of leather and lace and black rocker charisma that you saw on-screen on Sheila E. and Prince. She had what it took to bring it to life on the streets of drab Fort Wayne, which made her even more magical.
While my mom was a self-assured fashion star, I was draped in my own insecurities by the time I was in second grade. Among girls my age, it was clear to everyone that light-skinned or "mixed" girls with long hair were so pretty. Me, with my short, "nappy" sandy-brown locks, reddish-brown skin, and fiery hazel-green eyes, I was, well, maybe, debatably pretty.
But when I slipped into my mothers closet, I could channel her energy. Her things were like talismans that held her confidence and beauty. One time, I shimmied her black leather pencil skirt up over my nonexistent hips. I pulled the black Victorian jacket from Wilsons down off its thick hanger and put it on. I didnt yet see myself as a freedom fighter in leather—all that would come later—but I was having all kinds of feelings. It is the fundamental desire of a little girl developing a consciousness in the world: the desire to be grown, to make my own choices, to feel an unapologetic, unburdened sense of self.
When I slipped into my mothers closet, I could channel her energy. Her things were like talismans that held her confidence and beauty.
By the time I was a fifth grader, Mom had amassed more than a hundred pairs of shoes, a dozen leather jackets, and countless other sundries. I was becoming greedier; I would make off with one of the amulets of her power and hide it, like a stealthy cat burglar. I figured I couldnt take the big items because shed surely notice their absence, but I could steal something small, like a pair of earrings. But no matter how crafty I was, Mom always noticed when her things were gone.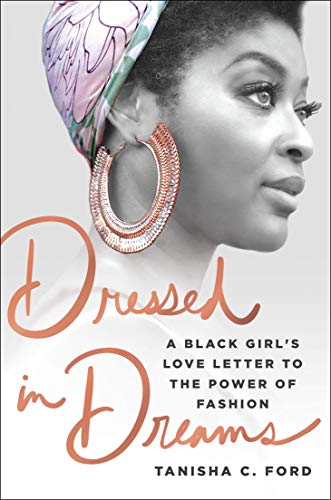 Dressed in Dreams: A Black Girl's Love Letter to the Power of Fashion
amazon.com
$27.99
$17.91 (36% off)
On a solo mission into the closet, I could sit down and just wallow in my desire, letting the air fill up thick with my dreams. Each piece I caressed in private told me a story. The elegant leather blazer told me how it would feel to be heading into work in the middle of my big important career. The bright-colored body dress was a prophecy about the grown-up friends Id meet up with to eat fabulous-sounding foods like chimichangas and margaritas (like my mom and her girls did every other Friday when they went to their favorite Mexican restaurant that was