Greece Demands Return of Parthenon Marbles from Britain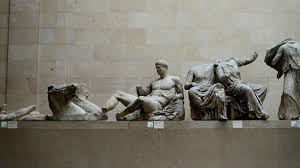 Ratcheting up fresh pressure, Greece has blasted the British Museum for exhibiting the Parthenon marbles, calling the collection "stolen" treasures and demanding the masterpieces be returned to Athens.
The call comes as Greece celebrates the 11th anniversary of the New Acropolis Museum, a four-story, state of the art edifice built to house the ancient treasures and weaken Britain's claim that it is best able to look after the 2,500-year-old masterpieces.
"Since September 2003 when construction work for the Acropolis Museum began, Greece has systematically demanded the return of the sculptures on display in the British Museum because they are the product of theft," the countrys culture minister Lina Mendoni said.
"The current Greek government – like any Greek government – is not going to stop claiming the stolen sculptures which the British Museum, contrary to any moral principle, continues to hold illegally," she told the Athens daily Ta Nea.
Depicting figures of ancient Greek mythology, the 75-meter frieze and its 17 statues were sawed off the Parthenon temple and shipped to London by Lord Elgin in the early 19th century, during his tenure as Ambassador to the Ottoman Empire.
Bankrupted by the venture, the British aristocrat sold them to the British Museum in 1816, where they became a major attraction and began one of the worlds longest running cultural disputes.
Mendoni said "It is sad that one of the worlds largest and most important museums is still governed by outdated, colonialist views."
While successive governments in Britain have opposed calls for the return of the sculptures to Greece, pressure has mounted in recent years with a bandwagon of celebrities and politicians joining the repatriation campaign.
Greeces center-right government is also stepping up efforts to win back the treasures as the country gears up for its bicentennial independence anniversary next year.