Greek Citizens Protest Proposed Law to Restrict Protests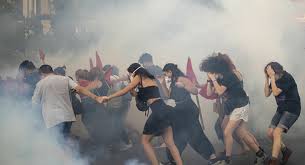 The Greek government is experiencing significant resistance as it seeks to pass a new law that would restrict the right to protest.
Violence erupted Thursday as an estimated 10,000 people gathered outside parliament in Athens to protest the new bill as it went to a preliminary vote.
According to The Associated Press, a group of protesters hurled gasoline bombs at riot police as the officers attempted to contain the rally with tear gas and flash grenades.
In total, more than 40 demonstrations were held across the country, many of them backed by a leading labor union affiliated with the opposing Greek Communist Party.
The largest public sector union, ADEDY, staged a walkout Wednesday and said it supported Thursdays protests.
"Well do everything possible to make sure it wont pass," ADEDY member Odysseas Ntrivalas told Reuters.
Protests have plagued the Mediterranean nation for more than a decade, starting in late 2009 with the onset of the worldwide economic crisis.
Syntagma Square outside parliament became the scene of massive anti-austerity protests that continued during Greeces three internationally backed bailouts and subsequent recovery period.