France: British holidaymakers rush to return home after UK quarantine move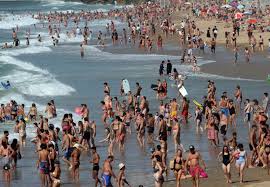 British holidaymakers in France have been rushing to return home to avoid having to self-isolate for a fortnight, following the UK's decision to reimpose quarantine restrictions on the country amid a recent spike in coronavirus infections.
The government announced late on Thursday that people travelling to the UK from France, the Netherlands and Malta would be required to quarantine for 14 days upon arrival from Saturday morning. The measures will apply to the whole of the UK and come into effect from 4 a.m. BST (0500 CEST).
[contfnewc]
The French government has indicated that it will respond in kind, without giving details.
The UK's move is causing havoc for thousands of holidaymakers and has been greeted with dismay by the travel and tourism industries, struggling to keep a summer season alive after being crippled by the spring lockdown. The British government says travellers were warned of the risks of going abroad.
British Transport Secretary Grant Shapps said the country needed to "keep infection rates down" after France, the Netherlands and Malta all recorded a surge of coronavirus cases in recent days.
Monaco and the Caribbean islands of Aruba and Turks and Caicos have also been added to the quarantine list.
Travellers abruptly change plans
France is the second-most popular holiday destination for British tourists after Spain. Around half a million Britons are thought to be in the country.
In the French ports of Dunkirk and Calais — whose mayor called the UK quarantine move an "aggression" — many British travelers were lining up in their cars to take the ferries crossing the Channel to Britain.
For those trying to beat the quarantine deadline, travel possibilities are limited. Air France, Eurostar and Eurotunnel saw an immediate rise in reservations and services quickly became fully booked. Travel operators are warning people not to try to return to the UK unless they have reservations.
"I was supposed to come back tomorrow evening but then after the announcement yesterday, I decided to move it to today and yeah, it cost me £105 (€116) to change my ticket, and my kids tickets," said Firas Kilin, as he prepared to board a train to London from Paris.
Speaking on Thursday night, Shapps said the isolation measures would be "mandatory" to keep outbreaks under control, but assured that people would not need to race home from their summer breaks.
He said: "We're saying to people you can stay and finish your holiday, but you have to be aware you will have to quarantine after that."
Rising COVID-19 cases in France
There have been growing concerns about the number of COVID-19 cases in France, which is the second-most popular holiday destination for UK tourists after Spain. Infections have risen by 66% in the past week.
However, the rise in the number of cases varies around the country. Infection levels are currently highest in Paris and surrounding areas as well as on the south coast. Paris and the Marseille area were declared "at-risk zones" on Friday because of a spike in new cases.
Yet many areas frequented by British tourists are relatively unscathed, and questions have been raised as to why the UK could not have introduced alternative measures to quarantine, such as testing returning holidaymakers for coronavirus.
On Thursday, the country added 2,524 new coronavirus cases to the national tally in 24 hours — the highest daily increase since May when lockdown measures were lifted.
From 3-9 August, it recorded a weekly rate of 15 cases per 100,000, with the Netherlands and Malta reporting rates of 19 and 35 respectively.
France initially recorded lower cases when considering a seven-day average per 100,000 than the UK, but saw a peak in the last week meaning its total crept above Britain's.
The continental European country's increase was still much lower than that of Spain or Belgium — which were both added to the UK's quarantine list in July.
Spanish Prime Minister Pedro Sanchez condemned the decision at the time, telling local broadcaster Telecinco that he thought the measures were "inappropriate" and didn't fit with Spain's current epidemiological situation.
He argued that places heavily dependent on British tourists, like the Balearics and the Canary Islands, as well as Valencia and Andalusia, were safe destinations as most of the new COVID-19 cases were recorded in the north-eastern regions of Catalonia and Aragon.
French health authorities said at the end of July: "We have cancelled much of the progress that wed achieved in the first weeks of lockdown-easing."
It also warned that French citizens appeared to be letting their guard down during their summer vacations and that those who test positive are not self-isolating enough.
[contfnewc]